Among all the proxies, the Socks5 proxy is the most versatile in the community. That is because it can carry almost any type of data you need it to. If you are not familiar with the Socks5 proxy, it is an unencrypted way to hide your IP address while using P2P Networks. Combine it with any of our VPNs to add encryption. Socks5 can also be used to change your browser IP address for privacy and geo-restriction purposes. There are many different companies that offer them, but it can be hard to know which one is the best option or the differences between them. Here's a look at the best Socks5 proxy services offered by trusted VPN providers.
Rank
VPN Service
Our
Score
Server
Locations
Visit
Site
1
9.8
87
2
9.4
95
3
9.0
110
4
9.2
73
5
8.8
68
Free vs Paid Socks5 Proxy Services
While you may be tempted to check out one of the "free" proxy services, there is definitely a large divide between the free and paid versions. Let's take a look at some of the differences.
| Function | Paid Socks 5 Proxy | Free Socks 5 Proxy |
| --- | --- | --- |
| Speed | Good speeds - Worthy of downloading items. | Very slow. You can expect Kbps not Mbps. |
| Privacy | High network security, most do not keep activity logs. | Low chance of minimal security (if any). Can leave you open to attacks. |
| Reliability | Almost always stays connected. | Fewer than a 20% connection rate. |
| Logs | Most keep no connection logs. | Expect logs to be kept so the information can be used. |
As you can see by the results, you take a big risk by using a free version over a paid one. Luckily, there are several VPN services that include the Socks5 proxy with their service. Often times, the price of a VPN is less than you might pay for a freestanding premium Socks5 proxy.
Advantages of Using a VPN Over a Proxy
Even though using a proxy for safety is a good thing, the VPN is better. Not only do you get the benefit of changing your IP, but your connection is also encrypted. Instead of only being able to use one program at a time as with a proxy, the VPN can secure your entire internet connection. Next, we will take a look at the best VPN services that include a Socks 5 Proxy.
What is the best VPN with Socks5 Proxy?
We focused on the following criteria to determine the best VPNs with Socks5 proxy services:
The VPN has to offer free Socks5 proxy service to members
VPN kill switch to protect your IP address from being exposed
Speed tests performed on VPN servers in torrent-friendly locations
VPN network reliability to allow for long connection times
Strong encryption levels for better privacy protection
We selected only VPNs that do not keep usage logs
Without further delay, here is a list of the best VPN services that support Socks5 proxy:
---
Sign up for 36 months for just $3.49 per month (70% discount)
NordVPN is our top choice of VPNs that offer Socks5 proxy connections. NordVPN is based in Panama which some users prefer to using a VPN company that's actually headquartered in the United States. You will find that NordVPN has a strong presence in the US with servers located throughout the country. Members have full access to their network in the USA, Europe, and beyond for a very good price.
You will find that NordVPN has perhaps the best mix of services for the price if you subscribe to a longer term account. All users have full access to their network and custom software. You can connect using the VPN client for Windows or Mac. They also have an easy-to-use mobile app for both Android and iOS (iPhone, iPad) devices.
Want to access streaming services like Netflix, Amazon Prime Video, or BBC iPlayer from anywhere in the world? If so NordVPN is a great choice. They are one of the only VPN services that can still unblock Netflix. You can sign up for unlimited VPN and SmartDNS service with a 30-day money back guarantee.

---
Sign up for 12 months for just $3.33 a month (72% discount)
Private Internet Access (PIA) is one of the favorite providers in the P2P/torrenting community. It is well known for having the Socks5 proxy feature for their PPTP/L2TP protocols. They have servers in 50+ countries, so you can quickly and easily connect to the one you want to use. The server locations are listed in alphabetical order by country. Before you connect to a server, make sure you choose the Socks5 proxy option if you want to use it. That said, often times, the OpenVPN protocol is safer and faster.
The way you access Private Internet Access is pretty straightforward. All of their software is simple to use. If you plan to connect from Mac or Windows, we recommend using the VPN kill switch feature offered by PIA. They also have DNS leak protection, IPv6 leak protection, and port forwarding features in the desktop client. While the mobile apps don't include the advanced features, you can easily connect to any server and encrypt your connection. Remember to connect to PIA anytime you use a Wi-Fi network to help protect against data theft and check the box that says Socks5 proxy if you are going to be doing any torrenting activities. They do not limit usage so you can leave the VPN on anytime you want for privacy protection.
When it comes to their Windows client the PIA team has included an Internet kill switch. The kill switch will kill your Internet connection anytime the VPN fails. That can really come in handy for those wanting to ensure anonymity. Private Internet Access offers members a 30-day money back guarantee.

---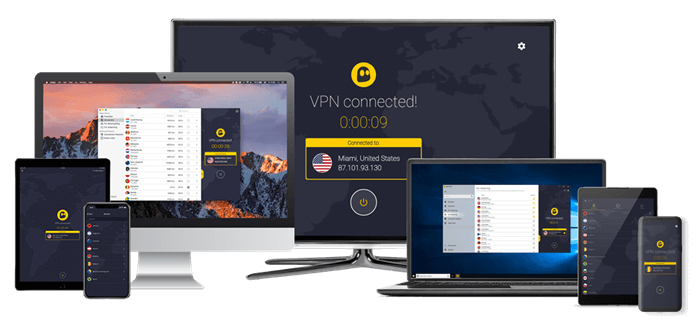 Sign up for 36 months for just $2.75 a month (79% discount)
CyberGhost was founded in 2001 by 7 enthusiastic young team members in Bucharest, Romania. Since that time the company has grown into one of the largest VPN services in the world. The team of 50+ members is focused on protecting users privacy. Robert Knapp, co-founder and CEO, continues to lead the team even after they joined the Crossrider group in 2017. Since that time the CyberGhost network has expanded quite a bit.
CyberGhost offers a nice mix of server locations, strong encryption, and the ability to torrent anonymously with support for Socks5 proxy connections. Unblock popular streaming services like Netflix, YouTube Red, and Amazon Prime. Some of the channels even let you unblock geo-restrictions for multiple regions. For example, you can access Amazon Prime video content in the US, Germany, or UK. The Windows client also gives you the option to surf anonymously, protect Wi-Fi, unblock basic websites (Google, Facebook Instagram, etc.), and choose a server.
The CyberGhost VPN client is one of our favorites. It is very easy to use and includes a number of advanced features to help protect your online privacy. They have a development team in Germany that is continually adding features to the client and mobile apps. You can sign up for full access to the CyberGhost network with a 45-day money back guarantee.

---
Sign up for 12 months for just $4.87 a month (60% discount)
We can tell you from experience that it is extremely stable and provides great speeds. That makes it a good choice for whatever activities you want to participate in. You will also find that IPVanish has many server locations all over the world. They have more than just about any VPN service. This makes them our go-to VPN on a daily basis.
Along with a large footprint in multiple countries, IPVanish hosts servers in every continent other than Antarctica. The network has consistently been the fastest VPN in North America and Europe in our speed tests. You will find multiple server locations in countries like the US and UK. You can select a location or an individual server. We tested torrent-friendly server locations and as you can see the performance was great.
When it comes to value IPVanish is hard to beat. They offer unlimited access to their VPN network and custom software for Windows, Mac, iOS, Android, Amazon Firestick and more. You can even set up your router to protect every device on your network. A 7-day money back guarantee covers all new members.

---
TorGuard was launched in 2012 by team members located in Nevis, West Indies. When you compare it to other services, this VPN service is relatively new. However, they have more than 1250 servers located in 42 different countries around the world. Their target audience is the torrenting community, but it will work just fine for anything you want to do online. They offer both Socks5 proxy and VPN access.
TorGuard has a solid mix of server locations, strong encryption, and the ability to unblock popular streaming services like Netflix, YouTube Red, and Amazon Prime as well as torrenting activities. Often times, you can gain access to Amazon Prime video content in several different locations. When using the Windows client, you have the option to surf anonymously, protect WiFi, torrent anonymously, unblock basic websites (Google, Facebook Instagram, etc.), choose a server, and more.
The TorGuard VPN service is a favorite in the file-sharing community. Everything is easy to use and straightforward so you can easily protect your online privacy. There are frequently features added to the mobile versions as well. You can sign up for full access for as low as $4.99 a month during their current promotion.
---
How to set up NordVPN SOCKS Proxy
Setting up NordVPN's SOCKS5 proxy can be a bit tricky at first. However, it is only a one time setup per app. Most torrenting clients have a spot to enter proxy information. You can find the configuration information under the "advanced configuration" heading in your Nord Account dashboard. In the field that says Type, enter SOCKSv5 W/ Auth. Under Username, enter your NordVPN username. Of course, under Password, enter your NordVPN password.
Under Host, enter one of the following:
amsterdam.nl.socks.nordhold.net
atlanta.us.socks.nordhold.net
dallas.us.socks.nordhold.net
dublin.ie.socks.nordhold.net
ie.socks.nordhold.net
los-angeles.us.socks.nordhold.net
nl.socks.nordhold.net
se.socks.nordhold.net
stockholm.se.socks.nordhold.net
us.socks.nordhold.net
Port: 1080 (for SOCKSv5 W/ Auth)
---
How to configure Private Internet Access SOCKS5 Proxies
You can access this setting by going to the app and selecting "Settings" from the menu. Now, you'll see a heading on the left side (while in the Windows version) that says Proxy. Choose the SOCKS5 button. To configure it, follow these steps:
Launch CMD
Type ping proxy-nl.privateinternetaccess.com
Write down the IP address and go back to the configuration screen
Paste or type the proxy IP address in the appropriate field.
Next, type 1080 in the Port field.
Enter the proxy and username on the PIA website
If you are issues with PIA's proxy working or are having speed issues, try going back to the Proxy heading > Settings > Click None.
---
How to setup IPVanish SOCKS5 Proxy
You can access the SOCKS5 proxy information by logging into the IPVanish control panel, once you have an account. From there, you'll see a tab that says SOCKS5 Proxy. There, you'll see your credentials, hostname, and a "reset credentials". On IPVanish's website, you can find a full list of their SOCKS 5 proxy server address list. Additionally, IPVanish has convenient set up guides for several different BitTorrent clients.
---
Final Thoughts on the Best Socks5 Proxy Services
In conclusion, the Socks5 proxy is a necessity if you are going to be using any torrenting software. Of course, it works well for other types of software too. Once you choose a provider, we suggest testing the speed of the PPTP/L2TP protocols + Socks5 proxy and see how it performs in relation to the OpenVPN + Socks5 Proxy. As long as it meets your needs, you should be fine. Hopefully, you have found this guide helpful. If so, please feel free to share it with your friends so they can take advantage of the information as well.