Morocco is a small country located on the northwestern coast of Africa. It has an estimated population of 35.7 million people. You can be assured that there are a number of reasons to visit this historic country. Those include food, beaches, historical buildings, the Sahara Desert, and more. If Morocco is on your list of places to visit, you will want to use a VPN when using the internet. We can tell you why, shortly. First, though, please take a look at our list of the best VPNs for Morocco.
Rank
VPN Service
Our
Score
Server
Locations
Visit
1
9.8
160
2
9.4
87
3
9.2
110
4
9.0
76
5
8.8
95
According to a report on Freedomhouse.org, Morocco is not surprisingly only partly free. That means there is definitely the chance you will be monitored by the government of Morocco. Of course, the way you resolve the issue is to connect to a VPN to protect your privacy. When you do, you create a secure and encrypted connection to the server of your choice. That will help keep you safe from the prying eyes of the government and cybercrooks that may want to steal your personal information.
The second really good reason to use a VPN is to help you get around government censorship. It should not be a surprise to visitors of Morocco that there are a number of websites that ae blocked by the government. Typically, that is because the offend the sensibilities of the country's official religion, Islam. If you try to view any questionable content, you will be blocked. Just as in the first case, you would connect to a VPN. However, the difference is you select a server in a different region. That will make the software think you are located someplace else. Therefore, you should be able to view the content you want to see.
What is the Best VPN for Morocco?
When we want to answer this question, there are specific criteria we need to look at. In this case, both types of issues are about equal for the country. Because of that, we'll look at them and tell you what the best VPN for Morocco is.
Strong encryption with military grade components to protect you from the prying eyes of the government
High network stability to avoid disconnects while in the region
Providers with a strict no-logs policy
Mobile apps and support for Amazon Firestick devices
Ability to get around firewalls and government censored content while in Morocco
High-Speed servers that perform well on speed tests in the area when tested to Rabat
Let's take a more in-depth look at the best VPNs to use while in Morocco.
---
Sign up for 12 months and get 3 MONTHS FREE on our #1 rated VPN
ExpressVPN brings together fast VPN access with MediaStreamer which acts as a Smart DNS service to unblock access to geo-restricted content. The VPN service will help encrypt your connection and unblock live sporting events. You will even find a list of the latest live entertainment and sporting events on their website. Being in the British Virgin Islands puts ExpressVPN outside the 5 eyes and 14 eyes countries. They maintain a no-log policy that has been verified through high profile legal requests over the years.
ExpressVPN manages a very large VPN network. Beyond the USA, the ExpressVPN network boasts thousands of servers in key locations to help protect user's privacy. You can connect to their VPN network to protect your privacy, unblock censorship, and watch your favorite streaming services from anywhere.
The ExpressVPN app allows you to select a server location down to the city but you do not need to choose a specific server. Instead, the client will select the fastest server in your chosen location. You also need to know that some cities are not shown on the recommended tab inside the client. You may find that issue with servers in the area. Simply select the "All" tab, open Spain. At this point, you can select servers there. When we tested a server in Barcelona to Rabat and the speed was 107.82 Mbps.
Perhaps the biggest advantage of using ExpressVPN is their support for a wide range of devices. ExpressVPN offers custom VPN software for Windows, Mac, iOS, and Android. Connect your desktop and mobile at the same time with up to 3 simultaneous connections. You can also install the ExpressVPN web extension for Chrome or Firefox. Want to protect your entire home network with a single VPN account? If so you can use the ExpressVPN router app to set it up. The MediaStreamer feature adds Smart DNS support to devices like game consoles (PS4, Xbox One, Nintendo Switch, etc.), media boxes (Apple TV, Roku, Nvidia Shield TV, etc.), and Smart TVs.
Save 49% and get 3 months free with 12 months of our #1 rated VPN
ExpressVPN performed very well in our speed tests. They are a great choice for privacy and to unblock geo-restrictions. Customer support is available 24/7 to provide assistance and answer any questions. Enjoy the best VPN for less with confidence as ExpressVPN offers a 30-day money back guarantee.

---
Sign up for 36 months for just $2.99 per month (75% discount)
NordVPN is based in Panama which some users prefer to using a VPN company that's actually headquartered in the United States. You will find that NordVPN has a strong presence in the US with servers located throughout the country. Members have full access to their network in the USA and beyond for a very good price.
You will find that NordVPN has perhaps the best mix of services for the price if you subscribe to an account for a longer period of time. All users have full access to their network and custom software. You can connect using the VPN client for Windows or Mac. They also have an easy-to-use mobile app for Android and iOS (iPhone, iPad) devices. You can use the NordVPN browser extension for Chrome, Firefox, or Safari. NordVPN offers some advanced privacy features like double VPN, P2P servers, and dedicated IP that really helps the service stand out.
NordVPN hosts a number of servers in Madrid. From the console, clicking on the 3 horizontal dots to the right of the country, you can locate the server area and see the percentages of the servers available. We tested a server located in Madrid and tested it to Rabat. The download speed was 97.77 Mbps.
Want to access streaming services like Netflix, Amazon Prime Video, or BBC iPlayer from anywhere in the world? If so NordVPN is a great choice. They are one of the only VPN services that can still unblock Netflix. You can sign up for unlimited VPN and SmartDNS service from just $2.99 a month with a 3-year membership.

---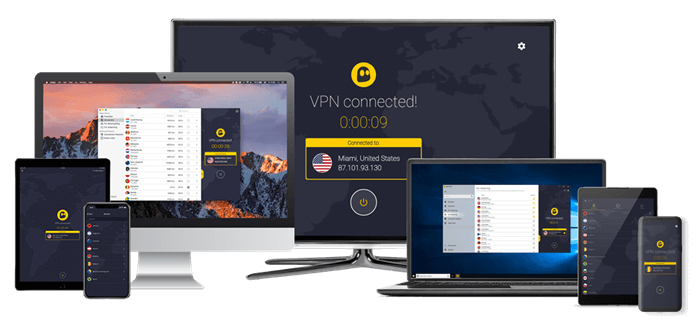 Sign up for 36 months for just $2.75 a month (79% discount)
CyberGhost was founded in 2001 by 7 enthusiastic young team members in Bucharest, Romania. Since that time the company has grown into one of the largest VPN services in the world. The team of 50+ members is focused on protecting users privacy. Robert Knapp, co-founder and CEO, continues to lead the team even after they joined the Crossrider group in 2017. Since that time the CyberGhost network has expanded quite a bit.
CyberGhost offers a nice mix of server locations, strong encryption, and the ability to unblock popular streaming services like Netflix, YouTube Red, and Amazon Prime. Some of the channels even let you unblock geo-restrictions for multiple regions. For example, you can access Amazon Prime video content in the US, Germany, or UK. The Windows client also gives you the option to surf anonymously, protect WiFi, torrent anonymously, unblock basic websites (Google, Facebook Instagram, etc.), and choose a server.
Since we wanted to test a server in Madrid, we opened the Windows client and clicked on the "Choose My Server" option. From there you can expand any country and select a specific server. The CyberGhost network includes a number of servers in Madrid. We connected to one of them and tested the performance. As you can see, our download speed was 101.85 Mbps.
The CyberGhost VPN client is one of our favorites. It is very easy to use and includes a number of advanced features to help protect your online privacy. They have a development team in Germany that is continually adding features to the client and mobile apps. You can sign up for full access to the CyberGhost network from just $2.75 a month during their current promotion.

---
Sign up for 12 months for just $4.87 a month (60% discount)
IPVanish is a very popular service and has many servers located all over the world. No matter which continent you are on, you can a solid performance from the servers there. They are typically fast, and the provider has one of the largest networks in the world.
Along with its large world network, IPVanish hosts servers in every continent other than Antarctica. As we mentioned, they usually are one of the fastest providers in the marketplace. It is known for having multiple server locations in a number of countries. You can select a location or get more specific by picking an individual server. IPVanish is excellent for protecting your privacy but can be hit and miss for unblocking popular streaming services.
IPVanish has servers all over the region and they are all available to you. If you happen to see a server that has the letter "a" as part of its server name, those are the fastest in the network. We connected to an IPVanish server in Madrid. The speed was 110.22 Mbps.
When it comes to value IPVanish is hard to beat. They offer unlimited access to their VPN network and custom software for Windows, Mac, iOS, Android, Amazon Firestick and more for $7.50 a month or $58.49 a year. That works out to just $4.87 a month on the annual plan. A 7-day money back guarantee covers all new members.

---
Sign up for 24 months for just $3.49 a month (65% discount)
Private Internet Access (PIA) gives users a few different options. Unlike in the past, you no longer have to set up a profile for each VPN server. Now, you can connect to any of their server locations in 33 countries. The PIA team has organized their servers by region, country, and city. You will find the speed to be fast most of the time.
There are a lot of torrent users who love Private Internet Access. The service includes a feature that will stop your system from communicating if the connection to their service drops. Meaning if your encrypted VPN access is dropped for any reason it will keep you safe.
PIA offers a Windows client and other apps that are simple and easy to use. However, you won't want to underestimate it. PIA offers different levels of privacy protection depending on your needs. You can control encryption levels to help you find the right balance between privacy and speed.
PIA offers a Windows client and other apps that are simple and easy to use. However, you won't want to underestimate it. PIA offers different levels of privacy protection depending on your needs. You can control encryption levels to help you find the right balance between privacy and speed. We connected to a server in Madrid and came up with a speed of 108.45 Mbps.
When it comes to their Windows client the PIA team has included an Internet kill switch. The kill switch will kill your Internet connection anytime the VPN fails. That can really come in handy for those wanting to ensure anonymity. Private Internet Access offers VPN from $3.49 a month along with a 7-day money-back guarantee.

---
For those that have Morocco on their bucket list, it is important that you connect to a VPN. We have provided you with some great choices above. That said, there are more on our top 10 VPN list. They will all work well, but we optimized our choices specifically to work well while you are in the Morocco region. That way, you will be able to protect your privacy and get around government censorship. By reading our guide, we can help you make the right decision.