Apple users can download the latest macOS Big Sur for free. We upgraded shortly after Apple released the latest Mac OS. It took about an hour and a half to download and install the new operating system on a MacBook. We immediately took some time to test all the top VPNs. Let's take a look at some of the best VPNs for macOS. Since a lot of Mac users also have an iPhone or iPad we chose VPNs that have custom Mac and iOS apps. We tested each Mac client and have included screenshots of all the apps in action.
Rank
VPN Service
Our
Score
Server
Locations
Visit
1
9.8
160
2
9.4
87
3
9.2
95
4
9.0
110
5
8.8
73
After using OS X Big Sur for a few hours, it has some really sharp looking aesthetics. The new update is cleaner and provides better integration with iOS devices. The new features will add your my work productivity and overall enjoyment. Having used a PC for years, we're now using Apple products (iMac, MacBook, iPad, iPhone) a majority of the time. This makes VPN for Mac a top priority.
There are literally hundreds of VPN services but only a few of them have easy to use Mac clients. Most VPNs give you instructions for manual settings up a VPN connection. That's just not good enough for us. We want and expect the same experience we would have on a PC on our iMac and MacBook devices. That's hard to come by with a VPN, but there are a handful of services we feel comfortable recommending.
In a moment we'll share a list of the best VPN providers for MacOS. The criteria are simple. First of all the service needs to be fast and reliable. They need to have built a strong reputation over the years. Finally, they absolutely have to offer a custom VPN client for macOS along with an iOS app. We're not manually configuring a VPN on Mac and you shouldn't have to either.
What is the best VPN for Mac?
We focused on the following criteria to determine our list of the best VPNs for Mac:
We looked for VPNs that offer frequent updates for their Mac apps
Preference given to apps with advanced features like VPN kill switch
Fast speed and ability to unblock popular streaming services
High levels of encryption to protect your privacy on Mac
No-log policy to ensure usage logs are not kept for privacy
Additional support for iOS and Amazon Firestick devices
Without further delay, here is a list of the best VPN services for Mac users:
---
Sign up for 12 months and get 3 MONTHS FREE on our #1 rated VPN
ExpressVPN is known for their sleek software design and there's no better platform to show that off on than Mac. As you'll see in a moment the latest version of the ExpressVPN Mac client is streamlined so that you only have to click once to connect. Those who want more control can switch server locations and protocols. You can also run a speed test. However, the client lacks the ability to set a kill switch or rotate IP addresses. Perhaps those options will be added in the future.
As you can see from the image below. the ExpressVPN Mac app is very straightforward. The look and feel of the app carries over to their Windows, iOS, and Android versions. The first thing you'll notice is just how clean the interface design is when you launch the app for the first time. You can connect to the suggested server or pick from a list of 100+ server locations around the world.
You can also run a speed test to find the fastest server locations. Doing so will take a few minutes but it's well worth the wait if you want to find the fastest connection. You will notice that the screenshot below shows the speed index, latency, and download speed for several servers. Once the test is complete I suggest you select the server in your desired country with the highest speed index. Gamers will want to pay close attention to the latency as well since it impacts lag. The speed test shows that Atlanta is our best option for fast performance.
In addition to running the speed test, you can also change protocols. The Mac client supports OpenVPN (UDP and TCP), L2TP/IPSec, and PPTP protocols. By default, the app will automatically choose the protocol. If you would like to set it yourself simply go into the preferences and select one of the protocols listed above.
Those new to VPN will really appreciate the design of the ExpressVPN Mac client. The interface is point and click. Select which server location you want to connect to and the software will take care of the rest. I would definitely give the ExpressVPN client software and mobile apps an A+ for ease of use.
Save 49% and get 3 months free with 12 months of our #1 rated VPN
ExpressVPN performed very well in our speed tests. They are a great choice for privacy and to unblock geo-restrictions. Customer support is available 24/7 to provide assistance and answer any questions. Enjoy the best VPN for less with confidence as ExpressVPN offers a 30-day money back guarantee.

---
Sign up for 36 months for just $3.49 per month (70% discount)
NordVPN is based in Panama which some users prefer to using a VPN company that's actually headquartered in the United States. You will find that NordVPN has a strong presence in the US with servers located throughout the country. Members have full access to their network in the USA and beyond for a very good price.
You will find that NordVPN has perhaps the best mix of services for the price if you subscribe to a longer term account. All users have full access to their network and custom software. You can connect using the VPN client for Windows or Mac. They also have an easy to use mobile app for both Android and iOS (iPhone, iPad) devices.
Want to access streaming services like Netflix, Amazon Prime Video, or BBC iPlayer from anywhere in the world? If so NordVPN is a great choice. They are one of the only VPN services that can still unblock Netflix. You can sign up for unlimited VPN and SmartDNS service with a 30-day money back guarantee.

---
Sign up for 12 months for just $3.33 a month (72% discount)
Private Internet Access (PIA) is well known for their popular VPN service along with their support for organizations that fight to protect our privacy rights. They take a different approach with their software. Rather than have a stand alone client that runs in its own window, PIA is accessed through a menu bar icon. Some users appreciate the approach while others find it less desirable. You will find the same high levels of encryption and advanced features that PIA offers in their Mac client in it's Windows counterpart.
The PIA app is similar to the open source OpenVPN client in its presentation. You can connect to any server by clicking on the PIA icon in the menu bar. This will display a dropdown list of server locations. We show the beginning of the list above. Simply click on any server location to connect. You can also configure a number of settings in the app or leave the default values. PIA is very popular among P2P / torrent users. Their kill switch feature is similar to that offered by IPVanish and VyprVPN. The app also supports port forwarding and more advanced features.
There is one other aspect of the PIA Mac client that is definitely worth noting. You can set the data encryption, data authentication, and handshake encryption levels in the client. The default settings are AES-128 / SHA1 / RSA-2048 which is a good combination for most users. You can set the following values in the Mac VPN app:
Data Encryption – AES-128 / AES-256 / Blowfish / None
Data Authentication – SHA1 / SHA256 / None
Handshake – RSA-2048 / RSA-3072 / RSA-4096 / ECC-256k1 / ECC-256r1 / ECC-521
As you can tell, PIA takes user privacy very seriously. Whether you plan to connect via Mac, iOS, Windows, or Android they have you covered with custom apps. Their network isn't as large as some so consider your purpose before making a decision. If PIA has servers in your desired location then you can benefit from the efforts their team continues to put into the service and it's full compliment of software.

---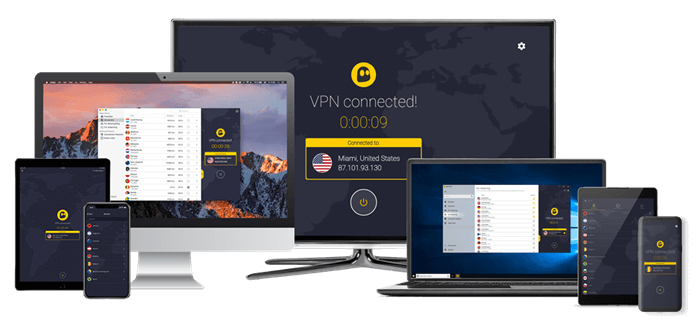 Sign up for 36 months for just $2.75 a month (79% discount)
It would be hard to find a better equipped Mac VPN client than CyberGhost 7. The development team has outdone themselves with a number of advanced features included for Mac users. You will find the software design to be intuitive. While there are a few of settings to adjust, you don't need to make any changes to connect. The client will take care of encrypting your connection. CyberGhost extends much the same interface and functionality to their Windows, iOS, and Android, and Amazon Fire TV apps as well.
As you can see in the image below, the CyberGhost user interface is clean. There are two ways to use the app. The first is a minimized version which is represented on the right side of the screenshot blow. You can simply click the slider to connect to the best location. If you want to select a different server location you can open the yellow tab which expands the client. From there you can select any country, city, and even individual server from thousands of choices. CyberGhost for Mac also has tabs to help you find the best servers for downloading and streaming. This is quite helpful for torrent users and those who want to unblock streaming services in other regions of the world.
You can also set the CyberGhost app to automatically connect anytime you use unsecured Wi-Fi. This is a great feature that will help protect your privacy while traveling. It's too easy to connect to an unsecured network and forget to launch your VPN client. I suggest you enable the feature if you travel often. You can also set the client to automatically reconnect anytime it disconnects. The "kill switch" feature will protect your privacy anytime the VPN connection drops by killing your Internet until the connection is reestablished.

---
Sign up for 12 months for just $5.20 a month (57% discount)
We chose IPVanish for our list of top Mac VPNs based on the quality of their top-tier network along with the advanced features offered in their Mac VPN client. Most notably the ability to kill your Internet connection anytime the VPN drops. The feature is better known as a VPN kill switch and will help keep you anonymous until the VPN reconnects. The software also allows you to change your IP address periodically.
Let's take a quick look at the Mac client. You can read our IPVanish review to learn more about the service. The review is very in depth and includes a user guide for each version (Mac, Windows, iOS, Android) of their custom app. Rather than go into that much detail we'll just take a cursory look at the user interface and some of the options in this post. As you can see below, the software will let you select any server location from a list or a map. You can easily expand the map in any region to choose the best server location.
In addition to ease of use, IPVanish has made it a point to offer advanced security features to Mac users. That's great because a lot of providers fall behind in supporting options like VPN kill switch and rotating IP for Mac. As you can see in the image below that isn't the case with IPVanish. We went ahead and highlighted the VPN kill switch feature. Simply check the box next to "Kill network if VPN connection is lost" to enable the feature. This will help ensure your privacy until the VPN reconnects.
There are some other features well worth mentioning. For starters, the IPVanish team protects Mac VPN users from DNS leaks by setting your DNS to run through their servers while connected to any VPN server. You can also set 3rd party DNS servers like Google or OpenDNS in the client. I suggest you use IPVanish for DNS resolution when using their service but just in case you want to go with another 3rd party here are the DNS addresses for a few top options. These are all public DNS servers so there is no charge for using them.
Google – 8.8.8.8 and 8.8.4.4 (IPv4) or 2001:4860:4860::8888 and 2001:4860:4860::8844 (IPv6)
OpenDNS – 208.67.222.222 and 208.67.220.220 (IPv4) or 2620:0:ccc::2 and 2620:0:ccd::2 (IPv6)
Comodo – 8.26.56.26 and 8.20.247.20 (IPv4)
In addition to their Mac client, you will find a similar look and feel in their Windows software. The IPVanish team has also developed nice mobile apps for iOS and Android. What you might find surprising is that they developed the VPN kill switch for Mac before Windows. That shows their dedicated to Mac users and is refreshing for those of us who have struggled to find quality VPN software for Mac over the years.

---
Sign up for 24 months for just $1.99 a month (83% discount)
Surfshark launched their VPN service in 2018. Since that time, the company has made quite a splash in the community. The team continues to grow and add server locations to their high-speed network. They have focused on privacy and value. The service includes extra features like CleanWeb (blocks ads and malware), Whitelister (split tunneling), MultiHop double VPN, kill switch, private DNS and leak protection.
With a large network of servers around the world, strong encryption, and the ability to unblock popular streaming services like Netflix, YouTube Premium, and Amazon Prime, there are many opportunities to enjoy the service. You can access Amazon Prime Video in multiple regions including the US, Germany, and UK. The Windows client gives you the option to connect to physical server locations, virtual servers (best suited for unblocking geo-restrictions), servers that support P2P usage, and MultiHop servers.
For the value and the features, Surfshark is an excellent option for those who want to protect their privacy and unblock restrictions. All of their VPN apps were designed with a similar user interface and are easy to use. You can sign up for an unlimited VPN account risk-free because Surfshark offers a 30-day money back guarantee.
---
Sign up for 12 months for just $4.37 a month (41% discount)
StrongVPN is a pioneer in the personal VPN space.  They were offering VPN access years before some of the other top brands in the industry.  Whether you want to protect your privacy on Wi-Fi networks or unblock content in other countries, StrongVPN has you covered.  They have a full line of client software including a nice app for Mac users.  In fact I prefer their Mac client to Windows.  It has a cleaner design and some extra features to help you select the fastest server.  Let's jump right in and take a look at what they have to offer Mac fans.
What are you looking for in a VPN service?  If simplicity is high on your list then we highly recommend StrongVPN.  Their Mac client lacks some of the advanced features offered by IPVanish but it makes up for it by offering a clean, simple to navigate user interface.  As you can see from our images below, StrongVPN has designed their Mac app for ease of use.  Those who know exactly where they want to can simply select the server location and click connect.  That's it.  There's no more explanation.  If you want to dig in more behind the scenes you can but you don't have to.  Just click once to connect, and then again to disconnect.  It couldn't get much easier.  That's why StrongVPN is one of our favorite VPN services for both Mac and iOS users.
Want to dig deeper into the client?  Let's take a look at some of the options available to those who want more control over their VPN connection.  For starters, you can use their server switcher to test the speed of each server location.  The interface let's you select a single server or multiple servers to test them at the same time.  You can see the results below.  Focus on both the ping time and download (DL) speed.  The lower the ping time the better.  The test shows that we could expect a low latency, fast connection to Atlanta and that's exactly what we got.
You can also set a number of preferences in the app.  Some screens are quite technical and give you more flexibility in using the app.  We're covering the basics.  You can click on the advanced tab to switch protocols.  You can select between PPTP, L2TP, SSTP, IPSec, and OpenVPN.  We suggest you use OpenVPN (UDP) whenever possible for the best mix of speed and reliability.
StrongVPN doesn't stop with Mac but we certainly appreciate their focus on Apple users.  You can expect the same level of quality anytime you reach out to their support team.  That's when the extra year's of experience shows the most.  StrongVPN members can download custom apps for Mac, Windows, iOS, and Android.  You can also use their guides to set up the VPN service to run through your router.  Doing so will protect your entire network with a single VPN account which extends support to game consoles and other connected devices.
---
The VPN industry is very competitive and companies are starting to focus more on Mac users. They know the details matter and are spending the time and resources necessary to develop for Mac and iOS. Is your favorite VPN service missing from our list?  If so please share it with us @VPNFan so we can test it out and consider it for our next quarterly update.