Apple continuously makes upgrades and updates its trendsetting mobile phone line, the iPhone. Each new model typically features upgrades in both screen size and capabilities. The large, water-resistant screens with retina display help make viewing videos a pleasure. No matter whether you choose the latest version or one slightly order, they all provide you with great opportunities to view online videos and more. However, it is important that you use a VPN anytime you connect to a public Wi-Fi network or when you want to enjoy content in other regions. Protect your privacy and unblock geo-restrictions with an iPhone VPN.
Rank
VPN Service
Our
Score
Server
Locations
Visit
1
9.8
160
2
9.4
87
3
9.2
95
4
9.0
110
5
8.8
73
There are a number of reasons to enable VPN on your iPhone. The first is online privacy. We all travel with our phones.  Whether it's to another country or the coffee shop down the street, an open Wi-Fi network will leave you at risk. You can rely on a VPN to help protect your privacy by encrypting your iPhone connection anytime it's enabled.  When it comes to securing your iPhone, some VPN companies are well ahead of others.  In a moment we will recommend VPNs that have developed custom iOS apps with advanced features to help protect your privacy and keep your iPhone data safe.  If you watched the 60 Minutes phone hacking segment, then you have some idea of just how bad the situation is now.  While a VPN isn't the whole solution to the problem, it's certainly a step in the right direction.  If you plan to use your phone on Wi-Fi networks then an iPhone VPN is a necessity.
A second reason to use a VPN on your iPhone is to avoid geographic restrictions. Let's say you live in the United States and plan to travel to Europe.  Did you know that you won't be able to watch US Netflix content while abroad? The same is true for those in the UK who travel outside the country and lose access to BBC iPlayer. A VPN will help you gain access regardless of where you travel.  How does it work?  When you connect to a VPN server in another country it will assign you a local IP address. This will help you access streaming services and channels in other countries while traveling or living abroad.  In this case, you may not be as concerned with the security and encryption levels offered by your VPN. Fortunately, you don't have to make the trade-off.  The VPN's listed below will help you stream HD videos in other countries while also protecting your privacy.
What is the best VPN for iPhone?
We focused on the following criteria to determine our list of the best iOS VPN apps:
Performance and reliability of iOS app for iPhone and iPad
Preference for secure protocols including IKEv2 and OpenVPN
We are only recommending VPNs that do not keep usage logs
The ability to unblock popular streaming services and live sports
VPN apps for desktop, mobile, and Amazon Firestick devices
Without further delay, here is a list of the best VPN services for iPhone users:
---
Sign up for 12 months and get 3 MONTHS FREE on our #1 rated VPN
Whether we're talking about iOS or another operating system, ExpressVPN has some of the best software in the industry. Those who prefer a map view will appreciate the latest ExpressVPN iOS app. By default, you can move around the world map and connect to any server location. The app also has a list view for selecting servers. You can switch between OpenVPN UDP, OpenVPN TCP, and IPSec protocols. We're hoping they add support for IKEv2 in the future. In the meantime, you can also set the app to auto-reconnect if the VPN connection drops. ExpressVPN is confident you'll be happy with their service once you have a chance to test it out. They offer all new members a 30-day money back guarantee which is plenty of time to test the service on all your devices.
The ExpressVPN service is equally impressive across a wide range of devices. They have custom clients for Mac, Windows, iOS, and Android and make our "top 5" list in every category. Their software has always been impressive, but 2016 has brought several improvements. For starters, the apps are much easier to set up and use. You can simply tap on a server location to connect. Their desktop apps include speed tests to help you find the fastest server. The Windows client also includes a VPN kill switch feature. As for the iOS app, you can set favorite server locations to connect quickly from iPhone to any ExpressVPN server in 94 countries.
Save 49% and get 3 months free with 12 months of our #1 rated VPN
ExpressVPN performed very well in our speed tests. They are a great choice for privacy and to unblock geo-restrictions. Customer support is available 24/7 to provide assistance and answer any questions. Enjoy the best VPN for less with confidence as ExpressVPN offers a 30-day money back guarantee.

---
Sign up for 36 months for just $3.49 per month (70% discount)
NordVPN is based in Panama which some users prefer to using a VPN company that's actually headquartered in the United States. You will find that NordVPN has a strong presence in the US with servers located throughout the country. Members have full access to their network in the USA and beyond for a very good price.
You will find that NordVPN has perhaps the best mix of services for the price if you subscribe to a longer term account. All users have full access to their network and custom software. You can connect using the VPN client for Windows or Mac. They also have an easy to use mobile app for both Android and iOS (iPhone, iPad) devices.
Want to access streaming services like Netflix, Amazon Prime Video, or BBC iPlayer from anywhere in the world? If so NordVPN is a great choice. They are one of the only VPN services that can still unblock Netflix. You can sign up for unlimited VPN and SmartDNS service with a 30-day money back guarantee.

---
Sign up for 12 months for just $3.33 a month (72% discount)
Private Internet Access (PIA) gives iPhone users a clean iOS app. Unlike in the past, you no longer have to set up a profile for each VPN server. With the new PIA app you can connect to any of their server locations in 29 countries. As you can see below, the PIA team has organized their servers by region for iPhone users. The server location are listed in alphabetical order by country. Once you select a location the app will connect. You can easily connect and disconnect with a single tap of the slider. Version 2.5 introduced a new Safari Content Blocker feature to block ads for those who choose to enable it. The latest iOS app supports both OpenVPN and IPSec connections.
The iOS app from Private Internet Access is pretty straight forward. All of their software is simple to use. If you plan to connect from Mac or Windows, we recommend using the VPN kill switch feature offered by PIA. They also have DNS leak protection, IPv6 leak protection, and port forwarding features in the desktop client. While the mobile apps don't include the advance features, you can easily connect to any server and encrypt your connection. Remember to connect to PIA anytime you use a Wi-Fi network to help protect against data theft. They do not limit usage so you can leave the VPN on anytime you want for privacy protection.

---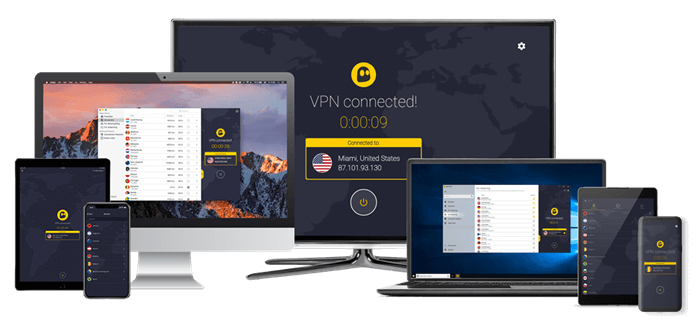 Sign up for 36 months for just $2.75 a month (79% discount)
With the launch of CyberGhost 7 in the Fall of 2018, the VPN arguably has the best software in the industry. One of the first things you will notice using CyberGhost 7 the interface. It is the same across Mac, Windows, iOS, Android, and Amazon Fire TV. That means you can expect the same experience regardless of the device. That's great as you can use the VPN on up to 7 devices at a time. This is very helpful in protecting your privacy at home or on the go. Back to the iOS app. You can connect to any VPN server location and filter the servers that support HD streaming. You can even set favorites for quick access to specific server locations. The iOS app will also protect you on WiFi hotspots. You can tell the app how to react to secure and unsecure networks. This gives you more control.
Take a close look at the user interface. It's simple yet effective. You can simply tap the lider to connect to the best server or choose any location. The new app allows you to select a specific server location and even an individual server. This gives you full control over which server you connect to at any given time. You will also notice tabs for "Streaming" and "Favorites". The streaming includes servers in key locations (US, UK, Germany, France, Finland, Denmark) to enjoy your favorite streaming services while outside the region. Best of all CyberGhost is a no-log VPN so you have an extra layer of privacy when using the service.

---
Sign up for 12 months for just $5.20 a month (57% discount)
We chose IPVanish as one of the best iPhone VPNs based on the work they've done in developing advanced features for iOS users. It's one thing to have a nice looking iPhone app, but most of them lack the extra privacy features to help ensure you're protected. IPVanish starts by giving you the ability to choose between IKEv2 and IPSec protocols. Without getting too technical, IKEv2 is the best protocol for iPhone. Its support for MOBIKE helps to reconnect to the VPN quickly when you move between hotspots or switch from your home Wi-Fi to mobile data. The IPVanish iOS app also includes features to automatically activate when you connect to Wi-Fi networks or when you visit specific websites. You have full control over the app as we'll demonstrate.
The image above includes three screenshots to give you a full picture of the iOS VPN app. You will notice the first image shows that we're disconnected. You can easily connect by moving the slider to the right. This will connect you to the server of your choosing and result in the image to the right. The screen in the middle shows the server location list. You can select any of their 85+ server locations across 60+ countries in the app to connect. You can easily switch between VPN servers anytime with just a few taps.
As you can see in the image above, the IPVanish iOS app gives you full control over how their VPN service interacts with your iPhone. You can start be selecting between IKEv2 and IPSec protocols. Tapping "On Demand" will bring up the screen displayed on the right. From here you can set a few advanced features:
Always On – stay connected to IPVanish anytime you use your iPhone.
Network SSIDs – connect automatically to specific networks based on the SSIDs
Domains – connect automatically for selected websites
We should note that you don't need to change any of these settings. The app is ready to connect the first time you launch it. These are just additional options to help protect your privacy. We really appreciate them as most other VPN apps lack the advanced privacy options.
Helping you find the best iPhone VPN is the focus of our post but IPVanish ranks high in just about every category. They put the same level of effort into their Android app. Windows and Mac users will find advanced features like VPN kill switch and the ability to rotate IPs. Their "zero logs" policy is just another sign that they take your privacy seriously. We use IPVanish on a daily basis and recommend you give them a try.

---
Sign up for 24 months for just $1.99 a month (83% discount)
Surfshark launched their VPN service in 2018. Since that time, the company has made quite a splash in the community. The team continues to grow and add server locations to their high-speed network. They have focused on privacy and value. The service includes extra features like CleanWeb (blocks ads and malware), Whitelister (split tunneling), MultiHop double VPN, kill switch, private DNS and leak protection.
With a large network of servers around the world, strong encryption, and the ability to unblock popular streaming services like Netflix, YouTube Premium, and Amazon Prime, there are many opportunities to enjoy the service. You can access Amazon Prime Video in multiple regions including the US, Germany, and UK. The Windows client gives you the option to connect to physical server locations, virtual servers (best suited for unblocking geo-restrictions), servers that support P2P usage, and MultiHop servers.
For the value and the features, Surfshark is an excellent option for those who want to protect their privacy and unblock restrictions. All of their VPN apps were designed with a similar user interface and are easy to use. You can sign up for an unlimited VPN account risk-free because Surfshark offers a 30-day money back guarantee.
---
Sign up for 12 months for just $4.37 a month (41% discount)
The StrongVPN team has been together since 1995.  They started in the web hosting space and have grown to a company of over 60 employees which is very large for a VPN service.  We've known the StrongVPN service since 2010 and they have continued to innovate over the years.  Up until 2016 they offered several VPN plans that were a bit confusing to understand.  That's all changed as StrongVPN now has a single plan with unlimited access to their network of 400+ server in 44 cities around the world.  The service is complimented by custom apps for iOS, Android, Mac, and Windows.  They also have setup guides for Chromium, DD-WRT, and Tomato routers.  Regardless of what device you use to connect, you can expect a fast, reliable connection when using StrongVPN.
The StrongVPN iPhone VPN app is one of the best for those who want to simply tap and connect.  As you can see above the iOS app gives you the option to "Tap to connect".  That's all you have to do to connect and encrypt your data.  The app uses IKEv2 protocol by default which we really appreciate.  You can also select L2TP or PPTP but we highly recommend you stick with IKEv2.  Using IKEv2 will help you automatically reconnect quickly when you move between networks.  This can be especially useful for those who travel a lot.  If you click on the server location listed in the bottom of the app it will bring up the server list shown in the center image.  From here you can select any server location and the protocol you want to use to connect.