Android is the most popular operating system in the world. While there are other competitors, Android has more than an 80% market share worldwide. No matter whether you use an Android phone, tablet, Fire TV, or other devices, you'll want to protect all of them with a VPN. A good VPN service will help protect your online privacy when using a mobile phone or tablet to connect to open WiFi networks. It will also help you unblock geographic restrictions. Take a look a our list of the best VPNs for Android.
Rank
VPN Service
Our
Score
Server
Locations
Visit
1
9.8
160
2
9.4
87
3
9.2
95
4
9.0
110
5
8.8
73
There are several advantages you can gain by using a VPN on your favorite Android device. The first advantage will help you protect your online privacy. Mobile phones have become an integral part of our lives in the last decade. We rely on them so much that they are means of entertainment as well as tools for work. To attract business, many establishments now offer free WiFi to their patrons. Because they are often open, those networks contain a big risk. No matter where you end up, there could always be cybercriminals ready to steal your private data. By using a VPN, you create a secure and encrypted connection anytime you enable it. That way, you can make it much harder for anyone to compromise your sensitive information.
If you have ever traveled outside the country, you may have been blocked from accessing content back home. Or perhaps you've run into blackouts for sporting events. That is because of geo-restrictions. Those are rules that say you can't access certain material if you are outside of a certain region. In the case of blackouts you will be blocked if within a certain region due to content restrictions. Let's say you are in China and want to access any unapproved content. Because of their firewall, however, you will run into blockades. By connecting to a VPN in another location, you can get around these types of restrictions. There are many other examples that we could use, but that should give you a good idea of the options.
As you can see, there are some very good reasons to use a VPN while on your Android device. From protecting your sensitive data from cybercrime or prying eyes to getting around censorship or geo-restrictions, you'll want to take advantage of VPN benefits. Though VPN services have been around for some time, mobile apps for those providers have come a long way. Now that we have explained why you should use a VPN for your Android device, we'll cover your best options.
What is the best VPN for Android?
We focused on the following criteria to determine our list of the best VPNs for Android:
Speed tests performed in US and UK with Android VPN app
VPN network reliability when using Android phones and tablets.
Mobile features including kill switch and support for Android TV
Strong encryption levels for better privacy protection
We prioritized VPNs that do not keep usage logs
Success unblocking popular channels and live sports
Without further delay, here is a list of the best VPN services for Android:
---
Sign up for 12 months and get 3 MONTHS FREE on our #1 rated VPN
ExpressVPN brings together fast VPN access with MediaStreamer which acts as a Smart DNS service to unblock access to geo-restricted content. The VPN service will help encrypt your connection and unblock live sporting events. You will even find a list of the latest live entertainment and sporting events on their website. As you can see, there are some definite advantages to using ExpressVPN for Android.
In the table above, ExpressVPN manages a very large VPN network. ExpressVPN network boasts hundreds of servers in key locations to help protect their user's privacy. That includes locations all over the world. You can use their network to protect your privacy, unblock censorship, and enjoy the content you are used to seeing on your phone or tablet
The ExpressVPN app allows you to select a server location down to the city, but you can not choose a specific server. Instead, click on the "choose location" button. You will want to select the "All" tab and select one of the four categories. That includes the Americas, Europe, Asia Pacific, Africa, Middle East & India. At this point, you can select the servers located there.
Save 49% and get 3 months free with 12 months of our #1 rated VPN
ExpressVPN performed very well in our speed tests. They are a great choice for privacy and to unblock geo-restrictions. Customer support is available 24/7 to provide assistance and answer any questions. Enjoy the best VPN for less with confidence as ExpressVPN offers a 30-day money back guarantee.

---
Sign up for 36 months for just $3.49 per month (70% discount)
NordVPN is based in Panama which some users prefer to using a VPN company that's actually headquartered in the United States. You will find that NordVPN has a strong presence because it has servers located throughout the world. Members have full access to their network all around the world for a very good price.
You will find that NordVPN has one of the best mixes of services for the price. Of course, you will want to subscribe to a longer length account. All users have full access to their network and custom software. You can connect using the VPN client for Windows or Mac. They also have an easy-to-use mobile app for both Android and iOS (iPhone, iPad) devices.
NordVPN's Android App provides good functionality and is very easy to use. There are many similarities between all versions of the different apps. Everything is easy to navigate and you can easily find the options as well as a list of the countries. You can also use the world map to connect if you wish. The image below shows the Android app.
Want to access streaming services like Netflix, Amazon Prime Video, or BBC iPlayer from anywhere in the world? If so NordVPN is a great choice. They are one of the only VPN services that can still unblock Netflix. You can sign up for unlimited VPN and SmartDNS service with a 30-day money back guarantee.

---
Sign up for 12 months for just $3.33 a month (72% discount)
Private Internet Access (PIA) gives users a few different options. Unlike in the past, you no longer have to set up a profile for each VPN server. Now, you can connect to any of their server locations in 29 countries. Though they may not offer as many countries as other providers, they focus on service and keeping prices down. As you can see below, the PIA team has organized their servers by region, country, and city. The server locations are listed in alphabetical order by country. Once you select a location, you can connect easily to locations wherever they have servers.
Many torrent users love PIA's easy to use service. That service includes a feature that will stop your system from communicating if the connection to their service drops. Meaning if your encrypted VPN access is dropped for any reason it will keep you safe.
When you download PIA's Android client, you will see that they make it fairly simple. That does not mean, however, that it is a weak program. Under the options section, you can find quite a few different options to choose from. Of course, you can toggle the features depending on your preferences including encryption levels to control your balance of speed and privacy. As you can see, the options screens are below.
When it comes to their Android client, the PIA team has included an Internet kill switch. This feature will kill your Internet connection anytime the VPN fails. That can really come in handy for those wanting to ensure anonymity no matter where they are. Private Internet Access offers members a 30-day money back guarantee.

---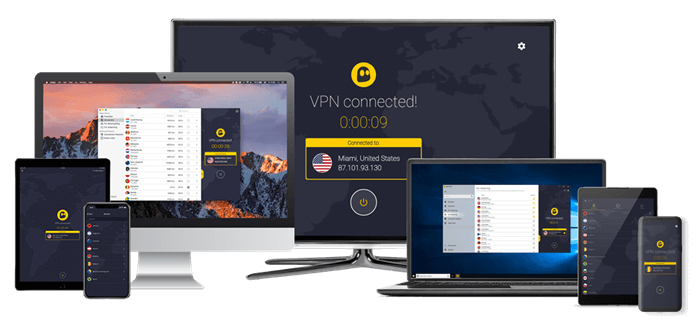 Sign up for 36 months for just $2.75 a month (79% discount)
CyberGhost was founded in 2001 by 7 enthusiastic young team members in Bucharest, Romania. Since that time the company has grown into one of the largest VPN services in the world. The team of 50+ members is focused on protecting users privacy. Robert Knapp, co-founder and CEO, continues to lead the team even after they joined the Crossrider group in 2017. Since that time the CyberGhost network has expanded quite a bit.
CyberGhost offers a nice mix of server locations, strong encryption, and the ability to unblock popular streaming services like Netflix, YouTube Red, and Amazon Prime. Some of the channels even let you unblock geo-restrictions for multiple regions. For example, you can access Amazon Prime video content in the US, Germany, or others. The Android client also gives you a variety of options including the ability to surf anonymously, protect your Wi-Fi, torrent anonymously, unblock basic websites (Google, Facebook Instagram, etc.), and choose a server.
The CyberGhost VPN Android client has many options that you are sure to love. those include WiFi Auto-Protect, Secured Streaming, and more. You will find no problems in navigating anything on the Android app because everything is intuitive. You can see what the app looks like below.
The CyberGhost VPN client is one of our favorites. It is very easy to use and includes a number of advanced features to help protect your online privacy. They have a development team in Germany that is continually adding features to the client and mobile apps. You can sign up for full access to the CyberGhost network with a 45-day money back guarantee.

---
Sign up for 12 months for just $5.20 a month (57% discount)
IPVanish has a great Android app that is easy to use. You can expect to find great speeds no matter what region you want to connect to. That is because they have one of the best networks in the community. Many of the servers in various locations are considered to be top tier. That means they are the fastest available.
Along with a large footprint in the USA, IPVanish hosts servers in every continent other than Antarctica. The network has consistently been one of the fastest VPN services no matter where we run our speed tests. You will find multiple server locations in countries all over the region. You can select a specific location or an individual server.
As with the PIA client, the IPVanish Android client is easy to use and has a number of different options to choose from. Those include the ability to auto connect, connect to fastest server, a scramble feature (for obfuscation), auto -reconnect, port change, and the option to choose one of the two versions of OpenVPN as you see below.
When it comes to value IPVanish is hard to beat. They offer unlimited access to their VPN network and custom software for Windows, Mac, iOS, Android, Amazon Firestick and more. You can even set up your router to protect every device on your network. A 7-day money back guarantee covers all new members.

---
Sign up for 24 months for just $1.99 a month (83% discount)
Surfshark launched their VPN service in 2018. Since that time, the company has made quite a splash in the community. The team continues to grow and add server locations to their high-speed network. They have focused on privacy and value. The service includes extra features like CleanWeb (blocks ads and malware), Whitelister (split tunneling), MultiHop double VPN, kill switch, private DNS and leak protection.
With a large network of servers around the world, strong encryption, and the ability to unblock popular streaming services like Netflix, YouTube Premium, and Amazon Prime, there are many opportunities to enjoy the service. You can access Amazon Prime Video in multiple regions including the US, Germany, and UK. The Windows client gives you the option to connect to physical server locations, virtual servers (best suited for unblocking geo-restrictions), servers that support P2P usage, and MultiHop servers.
For the value and the features, Surfshark is an excellent option for those who want to protect their privacy and unblock restrictions. All of their VPN apps were designed with a similar user interface and are easy to use. You can sign up for an unlimited VPN account risk-free because Surfshark offers a 30-day money back guarantee.
---
You can view our list of top 10 VPN services for more options. We think you'll be happy with any of the selections listed above. We chose them over other leading VPN providers based on reliability and apps that support the most recent Android operating system.  You've got to be able to trust your VPN provider to protect your privacy. These services will do that and each offers good Android apps.