I started using Microsoft operating systems with Windows 3.1 and have used every OS since that time.  There have been some winners and losers but one thing is for sure.  When Microsoft releases a new version of their OS their partners often have to scramble to fix compatibility issues.  That is certainly true for Windows 10.  Regardless of what version of Windows you use, a VPN will help protect your privacy and unblock content restrictions. Here's a quick look at our list of the best VPNs for Windows devices.
Rank
VPN Service
Our
Score
Server
Locations
Visit
1
9.8
160
2
9.4
87
3
9.2
95
4
9.0
110
When upgrading from Windows 8 to Windows 10 it became clear that a lot of VPN clients failed to function properly.  That's changed over time but there are still VPNs with software that doesn't support Windows 10. In a moment I'll share a list of some of the best VPN providers I've found for Windows 10 and older versions of the OS. I don't want to confuse anyone.  You can manually configure Windows to connect to a personal VPN service using PPTP or L2TP.  There is also an open source OpwnVPN client that most companies support.  Regardless of whether you manually connect or use a custom client you'll need to choose a VPN service first.  I personally prefer services that offer easy to use client software for Windows in addition to advanced features like VPN kill switch, DNS leak protection, port forwarding, and the ability to rotate IP addresses.
If you're like me the days of just running a Windows PC are long gone. In my house we have systems and mobile devices running Windows, Mac OS X, Android and iOS.  My family needs a VPN provider that supports them all.  To take that one step further we wanted a VPN that offered custom Windows and Mac software along with mobile apps for iOS and Android. I even added a DD-WRT router to run all our devices through a VPN when connected to our home network.
If you've already spent time looking at VPNs then you know there are literally hundreds of options to choose from. The decision on which company to choose took me a long time. In the process, I tested several leading providers. That eventually led to this site and our list of the best VPNs for Windows. I'm happy to share some providers that offer excellent client software along with fast, reliable service.
Below you'll find the best VPNs that met all of my criteria. They all offer easy to use VPN apps for Windows 10 with support for older versions of Windows. Many of the clients also includes advanced features to help keep you safe online. You can read more about them in the summary of each service. They all provide fast, reliable service at a reasonable price.  The main differences include advanced client features, network size, and price.
What is the best VPN for Windows?
We compiled our list of the best VPNs for Windows for these reasons:
Every VPN service was tested using Windows 10
Speed tests performed while connected to VPN via Windows
We looked for VPNs with easy to use client software
Ability to unblock geo restrictions for popular websites
Strong encryption to secure your privacy online
Advanced features like VPN kill switch and port forwarding
Let's jump right in and take a look at the best VPNs for Windows:
---
Sign up for 12 months and get 3 MONTHS FREE on our #1 rated VPN
Two factors make ExpressVPN a great choice to use for Windows machines. Those are the fast speeds of their service and the MediaStreamer feature. When you use them together, you can unblock geo-restrictions. If you have ever noticed that sometimes you can't access some of your favorite apps or websites, that may be because of geo-blockades. By using both together, you can use those apps or websites without any speed loss. You will also find that you can still use the VPN servers to encrypt your connection. No matter what activities you plan on doing, this one is a great choice.
With your ExpressVPN usage, you can select whichever city you want to use. Though you can't pick individual servers, they do a good job of finding the best option for you. When you set things up, you can push the "Choose Location" to select the region, country, or city. Changing the server is easy to do later.
Save 49% and get 3 months free with 12 months of our #1 rated VPN
ExpressVPN performed very well in our speed tests. They are a great choice for privacy and to unblock geo-restrictions. Customer support is available 24/7 to provide assistance and answer any questions. Enjoy the best VPN for less with confidence as ExpressVPN offers a 30-day money back guarantee.

---
Sign up for 36 months for just $3.49 per month (70% discount)
NordVPN is based in Panama which some users prefer to using a VPN company that's actually headquartered in the United States. You will find that NordVPN has a strong presence in the US with servers located throughout the country. Members have full access to their network in the USA and beyond for a very good price.
You will find that NordVPN has perhaps the best mix of services for the price if you subscribe to a longer term account. All users have full access to their network and custom software. You can connect using the VPN client for Windows or Mac. They also have an easy to use mobile app for both Android and iOS (iPhone, iPad) devices.
Want to access streaming services like Netflix, Amazon Prime Video, or BBC iPlayer from anywhere in the world? If so NordVPN is a great choice. They are one of the only VPN services that can still unblock Netflix. You can sign up for unlimited VPN and SmartDNS service with a 30-day money back guarantee.

---
Sign up for 12 months for just $3.33 a month (72% discount)
Private Internet Access is all about privacy and value. They don't manage as large a network in terms of countries and server locations. Instead, they focus on other areas and offer a lower price for the service. Private Internet Access is a trusted favorite of the file-sharing community.
There are a lot of torrent users who love Private Internet Access. The service includes a feature that will stop your system from communicating if the connection to their service drops. Meaning if your encrypted VPN access is dropped for any reason it will keep you safe.
I use PIA's Windows client and it's very easy in terms of set up and usage. Its simplicity doesn't mean the client isn't feature rich. PIA offers different levels of privacy protection depending on your needs. Control encryption levels and find the right balance between privacy and speed.
When it comes to their Windows client the PIA team has included an Internet kill switch. The kill switch will kill your Internet connection anytime the VPN fails. That can really come in handy for those wanting to ensure anonymity.
As we mentioned earlier Private Internet Access is an excellent value. They have grown quickly into one of the largest VPN providers partly based on price. Private Internet Access offers members a 30-day money back guarantee.

---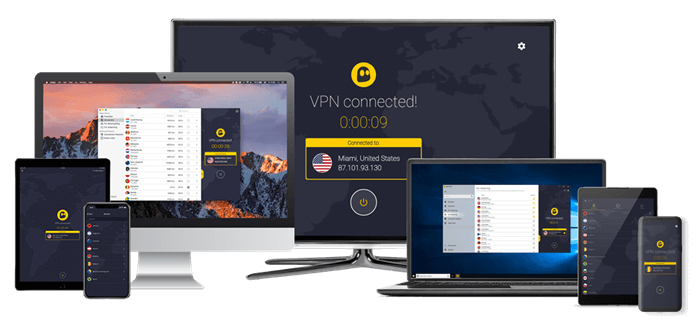 Sign up for 36 months for just $2.75 a month (79% discount)
CyberGhost was founded in 2001 by 7 enthusiastic young team members in Bucharest, Romania. Since that time the company has grown into one of the largest VPN services in the world. The team of 50+ members is focused on protecting users privacy. Robert Knapp, co-founder and CEO, continues to lead the team even after they joined the Crossrider group in 2017. Since that time the CyberGhost network has expanded quite a bit.
CyberGhost offers a nice mix of server locations, strong encryption, and the ability to unblock popular streaming services like Netflix, YouTube Red, and Amazon Prime. Some of the channels even let you unblock geo-restrictions for multiple regions. For example, you can access Amazon Prime video content in the US, Germany, or UK. The Windows client also gives you the option to surf anonymously, protect Wi-Fi, torrent anonymously, unblock basic websites (Google, Facebook Instagram, etc.), and choose a server.
The CyberGhost VPN client is one of our favorites. It is very easy to use and includes a number of advanced features to help protect your online privacy. They have a development team in Germany that is continually adding features to the client and mobile apps. You can sign up for full access to the CyberGhost network with a 45-day money back guarantee.

---
Sign up for 24 months for just $1.99 a month (83% discount)
Surfshark launched their VPN service in 2018. Since that time, the company has made quite a splash in the community. The team continues to grow and add server locations to their high-speed network. They have focused on privacy and value. The service includes extra features like CleanWeb (blocks ads and malware), Whitelister (split tunneling), MultiHop double VPN, kill switch, private DNS and leak protection.
With a large network of servers around the world, strong encryption, and the ability to unblock popular streaming services like Netflix, YouTube Premium, and Amazon Prime, there are many opportunities to enjoy the service. You can access Amazon Prime Video in multiple regions including the US, Germany, and UK. The Windows client gives you the option to connect to physical server locations, virtual servers (best suited for unblocking geo-restrictions), servers that support P2P usage, and MultiHop servers.
For the value and the features, Surfshark is an excellent option for those who want to protect their privacy and unblock restrictions. All of their VPN apps were designed with a similar user interface and are easy to use. You can sign up for an unlimited VPN account risk-free because Surfshark offers a 30-day money back guarantee.
---
You can view our list of top 10 VPN services for more options. I think you'll be happy with any of the VPNs listed above.  I chose them over other leading VPN providers based on speed and reliability.  Along with the quality of their Windows VPN client software.  You've got to be able to trust your VPN provider to protect your privacy.  These services will do that and each offers good quality at a very reasonable price. All three services will work on Windows XP, Windows 7, Windows 8, and Windows 10. Follow us @VPNFan for the latest VPN deals.